Build Something Beautiful that Lasts
Are you tired of designing landscaping for new homes, backyards, parks, storefronts, or other properties, just to see it disrupted by weeds, yellowing, or flooding? Artificial grass for landscapers is a game-changer from the product itself to design and installations.
How is Artificial Grass for Landscaping Different from Natural Grass?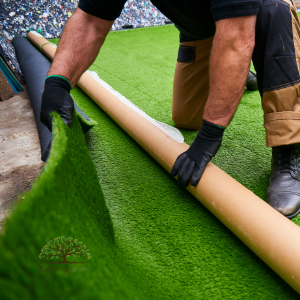 At its peak, natural grass grows thick and vibrant, but it often does not stay that way. When it comes to natural landscaping, rain, water, wind, and other external factors have a large say as to whether that grass will survive and look good. Luxury artificial grass from Echoing Green offers the lush and bright visual appeal of natural grass that withstands external elements to thrive in virtually any environment.
Benefits of Artificial Grass Landscaping
Customer Satisfaction: homeowners and commercial property owners love artificial grass installation because they save on maintenance costs and the time spent on fertilization, weeding, watering, and mowing.
Flexible: Artificial grass is easy to install. Our lightweight synthetic landscaping turf boasts an advanced design that is mess-free, making it easy for landscapers to cut and fit turf into irregular spaces neatly for a beautiful finish.
Weed-Free: Nothing ruins beautiful landscaping more than a weed. Artificial grass protects the integrity of your landscaping, keeping fast-spreading weeds and dandelions out of your work. Artificial grass installation also minimizes the spread of weeds between hardscaping and patio stones by regulating the nearby areas.
Easy Installation: Artificial grass installation with the right turf suppliers is easier than ever. Unlike sod, you can upgrade a space with artificial grass in as little as a day, giving your customers results faster and fitting more bookings into your busy season for increased profitability.
Customizable: Don't be limited. Meet all your customer demands with customizable artificial grass options that allow you to choose turf in different sizes, colours, and shapes for an entirely unique artificial grass landscaping design.
Reliable Turf Suppliers in Canada
When it comes to your business, choosing artificial turf suppliers in Canada that you can trust to enhance your operations is essential. At Echoing Green, we pride ourselves on always offering our customers the best, from quality products to services.
What Can You Expect from Us?
Customer Service: Customer satisfaction is the most important to us. We prioritize the customer experience from ordering and delivery to installation and maintenance. We will provide professional guidance and support for landscaping contractors.
European Turf: We recognize the importance of quality. So all of your artificial landscaping grasses are designed following strict European turf standards and manufactured in state-of-the-art facilities where it undergoes rigorous testing.
Delivery Services: For businesses that run on the road, we offer artificial grass delivery services, so you don't have to add a pick-up location to your long list of errands. Get the turf delivered to your door for maximum convenience.
Online Ordering: Manage your inventory efficiently with flexible online ordering options from Echoing Green. From a web browser or smartphone, you can log in anywhere, view our selection, and order online.
One-Stop-Shop: You can find a range of grasses in different lengths to meet your project needs, in addition to a selection of artificial grass installation accessories and essentials conveniently in one location.
Artificial Grass Installation Services
Never worked with artificial grass before? If you want to add artificial grass landscaping design to your service offering, the team at Echoing Green can help. We provide installation contracting services to help you get the most out of your business.